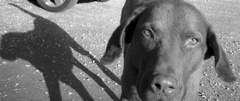 Give It To Me Straight!
What's all this therapy stuff about anyway?
Good question. Many say therapy is a confidential space to look at unresolved issues. A place where you can find answers to your problems. A safe place to make changes in your life. The truth is that therapy can be all of these things.
Is therapy about changing myself?
Well you could look at it like that... but I don't. That's too restricting. Just to change one bit of behaviour for another is a little limiting. I believe therapy is more about having choice in your life. It's about having the ability to choose a response that's right and appropriate for any situation.
Will I have to lie on a couch?
Er... no. I don't have one!
What's this Brief 4 session consultation all about?
It's just that... A 4 session therapeutic consultation for those people who just want a little space to think some difficult things through. The sessions are a complete piece of work in themselves although can be used as an assessment for ongoing therapy. This model really suits some people and is the model used at the Tavistock Clinic's excellent Young People's Consultation Service.
What happens in Relationship counselling?
Relationship or couples counselling is a space where both partners (hetro/gay/lesbian/trans... whatever) have an opportunity to talk out and express their feelings in a safe and contained environment. In a way the counsellor acts as an unbiased third party, a critical friend who has both your interests at heart. They hold up a mirror and tell you what they see. Sometimes they'll speak out the unspeakable, or point out the elephant in the room. That's just the way it goes.
What's all this accreditation business?
Having an accredited counsellor or psychotherapist is important. It shows that they've not only completed an extensive training (3 years for a counsellor and 4 for a psychotherapist) but that they've also had extensive clinical experience post qualifying (usually 2 years). Think of the difference between a driver who's just passed their test and one who's been driving for a few years! This difference is usually reflected in the price of therapy.
So what will it cost?
Costs vary from £80 to £100 per 50 minute session..
That sounds expensive!
Have you tried getting a plumber lately? (But seriously, we do offer low cost counselling... please ask.)
"Never underestimate the power of stupid people in large groups."